How to save a picture from Word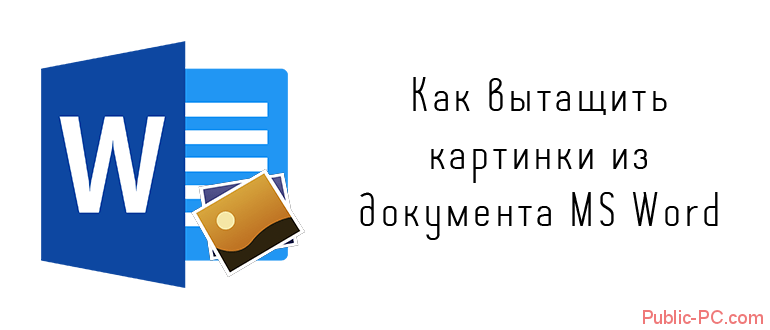 Surely you got into a situation where in the Word document there is a file that you somehow want to use in the future. The question arises - how can it be "pulled out", "cut out" from there?
See also:
How to Excel to translate into a Word
How to convert PDF to Word for editing
This article will help you become familiar with the method of obtaining JPG (or any other format) image, because ordinary "CTRL + C" , "CTRL + V" will not help in this case, even in the context menu there will be no such action as saving the file.
Creating an archive from a document
The easiest way is to convert the document to another format: change Docx (on Windows 7 and below - Doc ) to ZIP . With this action you will transform the Vord document into an archive and, therefore, you can easily download a picture from there.
Now we will consider the algorithm of actions:
Save the Vord document where the image you need is located and close it. Next you need to open the folder in which the file is located and click on it with the right mouse button.

Select the action "Rename" in the list that appears. In addition to the "name" of the document, you will see its extension (after the dot).
It is necessary to remove the document extension, then enter "ZIP" . Click ENTRE and confirm your action by clicking on the "Yes" button in the window that appears. If the file name is not displayed in the "Name" line, use step 4.

Open the "View" tab, click on the "Parameters" button. Then click on "Change parameters" .

In the window that opens, click again on the "View" button, and in the "Advanced settings" select "Hide extensions for registered file types." Click on the square to remove the check mark, then click on the "Apply" button.
Extract pictures from the archive
We will continue working with the document - at this stage we will extract the image from the ZIP archive. The instruction is as follows:
You need to open the archive, and in it open the folder «WORD» .

Next, go to the folder "Media" , where in the end and will be the image.

After 2 steps, "CTRL + C" , "CTRL + V" go into action. However, you can not bother and just move the image to the desired folder with the cursor.
To convert ZIP to Docx (Doc) just repeat the same steps with the replacement of extensions.
It is worth noting that you get the image in its original quality - if it was small in the document, it does not mean that it was so in the original.
In this article, we looked at the method for extracting a picture from a Word document. Using this elementary method, you easily save all the images you need from the Word document.
The question arises - how can it be "pulled out", "cut out" from there?